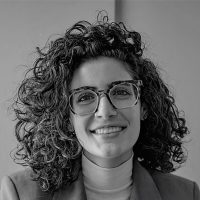 Jackson
ACADEMIC TUTOR
Johns Hopkins University – BA – Writing Seminars, History of Art
University of Maryland English Language Institute – TESOL certification
National Merit Scholar
Successful completion of nine Advanced Placement (AP) courses and exams

________________________________________________________________________________________________________________________

Jackson studied History, Writing and Literature at the US's elite Johns Hopkins University, ranked 15th in the world in 2022 by The Times Higher Education Rankings. They excelled with a GPA of 3.9. This followed Jackson's own high school success, where they completed an incredible 9 AP courses and achieved SAT results of 1520.

Jackson wrote her honors thesis on Vietnamese-American artist Dinh Q Lê, which ultimately led her to Saigon.

Since graduating, she has worked as a freelance writer, most recently composing poetry analysis for educational company LitCharts. She has published a broad array of writings, including academic, journalistic, and creative works.

During her time as a student, Jackson completed two graduate seminars and received grant money to research rare materials from her university's Special Collections. She also spent five semesters as the Arts & Entertainment editor at The Johns Hopkins News-Letter. This position allowed her to attend countless local arts events and mentor other writers. In her spare time, Jackson enjoys organising meet-ups for local poets and volunteering with service organisations.

Jackson is one of ITG's longest serving tutors and has headed up the English Department while focussing on tutoring higher level students in the IB and IGCSE as well as leading ITG's SAT English provision.