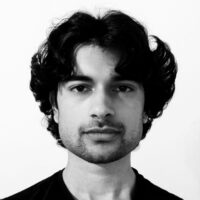 Rutwik
Maths & Economics Tutor
The University of Manchester – BSc (Hons) Physics with Theoretical Physics – First Class
Aylesbury Grammar School – 4 A-Levels – Maths (A*) Further Maths (A) Chemistry (A*) Physics (A)
Aylesbury Grammar School – 12 GCSEs – 6 A*, 6 A
120hrs TEFL certificate


---
Driven by curiosity about the universe's workings, Rutwik graduated with a First Class Physics degree from the University of Manchester.
His time there fostered a passion for learning, which has shined throughout his career.
Rutwik has worked as a software engineer, applying his scientific knowledge to solve problems in everything from fighter jet simulations to graphic design tools. His outlook on teaching stems from a combination of both his professional and academic experience.
Rutwik has spent several years tutoring Secondary school students. His approach focuses on building a strong foundation, encouraging critical thinking and problem-solving skills through practical examples and engaging discussions.
He aims to empower students to become confident and independent learners.
Outside of tutoring, Rutwik enjoys playing badminton and watching football. He also loves programming and spends his evenings developing computer games and other personal projects.