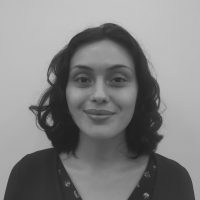 Rahsa
English Language & Literature Tutor
New York University, double bachelors degree in Journalism and Cinema Studies (Deans List student)
AP English and History and Student Class President at Sayreville War Memorial High School
After-school Program manager at Grace Church School
120 Hour TEFL Certificate

________________________________________________________________________________________________________________________

Rahsa is an American national who attended the prestigious New York City University, where she received a Double Major Bachelor's Degree in Journalism and Cinema Studies (3.5/4 GPA).

During her time at university she taught and tutored extensively in local schools, supporting students from Kindergarten to Grade 8 with English, Literature study, creative writing and the wider liberal arts.

Since moving to Vietnam, Rhasa has put her teaching experience to good use working as a Senior Teacher for Apax Leaders, where she had responsibility for the advanced classes that focussed on Literature and Test Prep. She was then keen to move back to a Literature and Language Arts focus in her teaching, so she joined ITG to focus on supporting our international school English learners. She specialises again in Kindergarden – Grade 8.

Outside of teaching Rhasa is an avid painter and is establishing her career as an artist on the Vietnamese and International art scenes.